COOKING SHOW
COOKING SHOW
COOKING SHOW
COOKING SHOW
COOKING SHOW
COOKING SHOW
COOKING SHOW
COOKING SHOW
COOKING SHOW
COOKING SHOW
COOKING SHOW
COOKING SHOW
COOKING SHOW
COOKING SHOW
COOKING SHOW
COOKING SHOW
COOKING SHOW
COOKING SHOW
COOKING SHOW
COOKING SHOW
COOKING SHOW
COOKING SHOW
COOKING SHOW
COOKING SHOW
COOKING SHOW
COOKING SHOW
COOKING SHOW
COOKING SHOW
COOKING SHOW
COOKING SHOW
COOKING SHOW
COOKING SHOW
COOKING SHOW
COOKING SHOW
COOKING SHOW
COOKING SHOW
COOKING SHOW
COOKING SHOW
COOKING SHOW
COOKING SHOW
COOKING SHOW
COOKING SHOW
COOKING SHOW
COOKING SHOW
COOKING SHOW
COOKING SHOW
COOKING SHOW
COOKING SHOW
COOKING SHOW
COOKING SHOW
COOKING SHOW
COOKING SHOW
COOKING SHOW
COOKING SHOW
COOKING SHOW
COOKING SHOW
COOKING SHOW
COOKING SHOW
COOKING SHOW
COOKING SHOW
COOKING SHOW
COOKING SHOW
COOKING SHOW
COOKING SHOW
COOKING SHOW
COOKING SHOW
COOKING SHOW
COOKING SHOW
COOKING SHOW
COOKING SHOW
COOKING SHOW
COOKING SHOW
COOKING SHOW
COOKING SHOW
COOKING SHOW
COOKING SHOW
COOKING SHOW
COOKING SHOW
COOKING SHOW
COOKING SHOW
COOKING SHOW
COOKING SHOW
COOKING SHOW
COOKING SHOW
COOKING SHOW
COOKING SHOW
COOKING SHOW
COOKING SHOW
COOKING SHOW
COOKING SHOW
COOKING SHOW
COOKING SHOW
COOKING SHOW
COOKING SHOW
COOKING SHOW
COOKING SHOW
COOKING SHOW
COOKING SHOW
COOKING SHOW
COOKING SHOW
COOKING SHOW
COOKING SHOW
COOKING SHOW
COOKING SHOW
COOKING SHOW
COOKING SHOW
COOKING SHOW
COOKING SHOW
WEEK 20 / COOKING SHOW WITH GUEST KINO COURSEY
---
Recipe and photograph by Nicole of Heal Me Delicious︎︎︎︎
---
[ IMAGE DESCRIPTION: A vertical photograph of a rectangular plum sheet cake on white parchment paper, sitting atop a speckled white counter. The photograph is taken from directly above the sheet cake, capturing the entire cake. The cake is light brown with four rows of sliced plums covering its entire surface. There are a few slices missing from the bottom right corner of the cake and a butter knife is resting next to the cake, partially in the frame. A small rectangular slice of the cake sits in the lower right corner of the photograph at a diagonal. ︎︎ heart symbol ]
Photograph by Kino Coursey
A square portrait of Kino Coursey. Kino is a Black man with a beard wearing a white blazer with a black shirt and glasses. He is centered in the photograph, looking directly into the camera with a slight smile. The photo is taken slightly from below his eyeline, capturing Kino's head and upper torso. Behind him is a wooden wall connected to built-in bookshelves that are out of frame.︎︎ heart symbol ]
Kino Coursey
, PhD, is Chief AI Researcher at Realbotix. He is a computer scientist with a broad background ranging from developing communications technology to designing evolutionary and neural systems. He was a member of the design committee for the AIML (AI Markup Language) chatbot language, and has designed and implemented numerous AI systems using commonsense reasoning, evolutionary and neural systems. He has been a technical consultant for Hanson Robotics, Robokind, Motorola, and IBM, and worked on the natural language processing of Philip K Dick, BINA-48, and the Sophia androids. He has received National Science Foundation grants for developing the Computational Compassion architecture and applying personal humanoid robotics to language learning and teaching interactions to autistic children.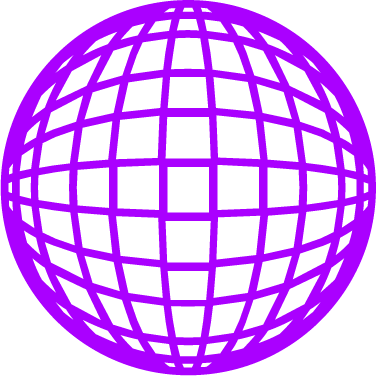 [ IMAGE DESCRIPTION: Purple line illustration an interconnected mesh globe ︎ heart symbol ]
[ IMAGE DESCRIPTION: A video thumbnail appears in the video player above. An image description of the thumbnail, which is a screenshot from the video itself, can be found on page two of the transcription file

here

.︎ ]
.